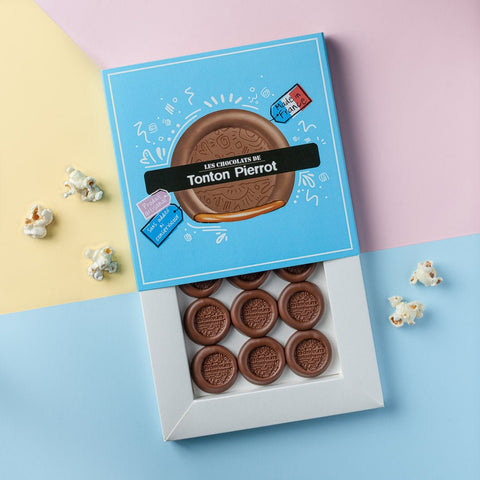 Tonton Pierrot
TONTON PIERROT'S CHOCOLATES
Our delicious milk chocolates filled with salted butter caramel. 🍫
This box of chocolates is not just a simple box of chocolates, it is the ideal gift for lovers. Discover 9 pieces of milk chocolate filled with fleur de sel caramel… The perfect combination.
The chocolates are entirely made in Paris by one of the best workers in France. In addition, the chocolate comes from ethical and responsible agriculture!
INGREDIENTS: milk chocolate, cream, sugar, glucose, butter, water, fleur de sel, vanilla.
Weight: 100g net unit
A hand-poached French creation 🎀
Are you organizing an event and want the Candy Bar of your dreams?
Set up your own Candy Bar 🎀
Thanks to our dedicated tool, configure your own Candy Bar and have it delivered to your home
A question about the Tonton Pierrot Universe
Contact the sales team by clicking on this link