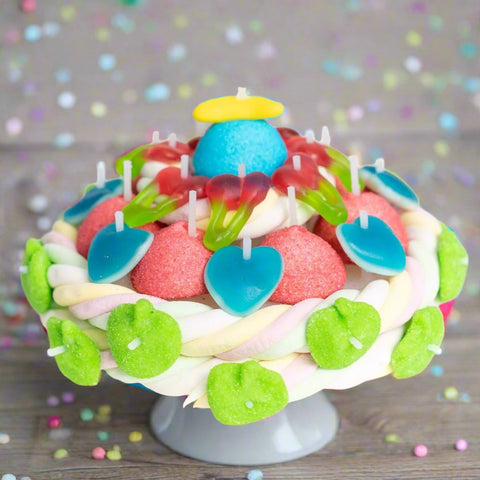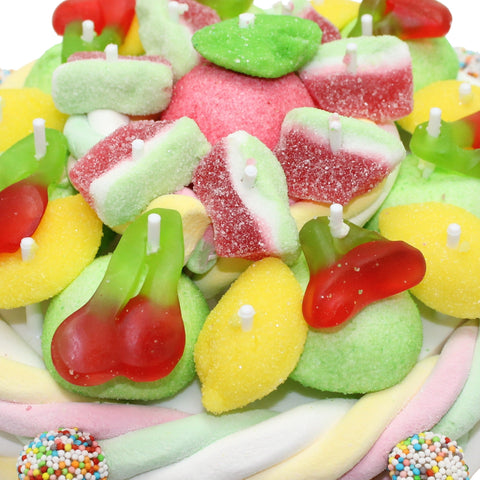 Tonton Pierrot
THE "FRUIT" CAKE -- 414g net unit
What could be friendlier than sharing a candy cake!? Our cake is made of twisted marshmallow and strawberry ball, some jellied candies and/or tangy banana/strawberry/raspberry/apple and cherry flavored candies. 🍰
Everything is delicately stitched by hand on our food safe plastic supports (unbreakable and patented by the Groussard family).
To share with young and old! 👀
INGREDIENTS :
Sugar, glucose and fructose syrup, water, gelatin; Humectant: sorbitol (E420), pectins, flavourings, corn starch; Acidifiers: lactic acid (E270), citric acid (E330); Acidity regulator: sodium lactate (E325); BLE starch, concentrates (radish, apple, black currant). Dyes: Concentrated black carrot juice, spirulina extract, curcumin (E100). Glazing agents: carnauba wax (E903), vegetable oil (coconut, rapeseed).  May contain traces of: milk, egg.
A hand-poached French creation 🎀
Are you organizing an event and want the Candy Bar of your dreams?
Set up your own Candy Bar 🎀
Thanks to our dedicated tool, configure your own Candy Bar and have it delivered to your home
A question about the Tonton Pierrot Universe
Contact the sales team by clicking on this link