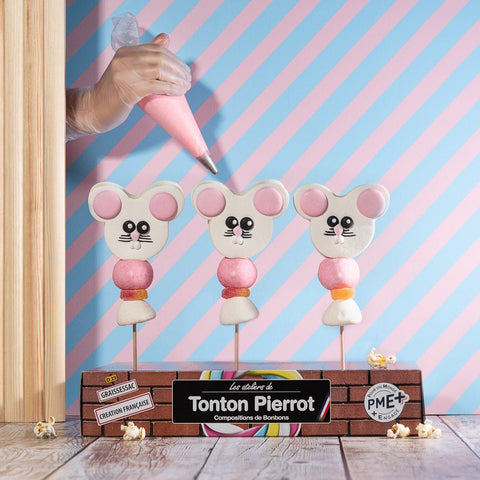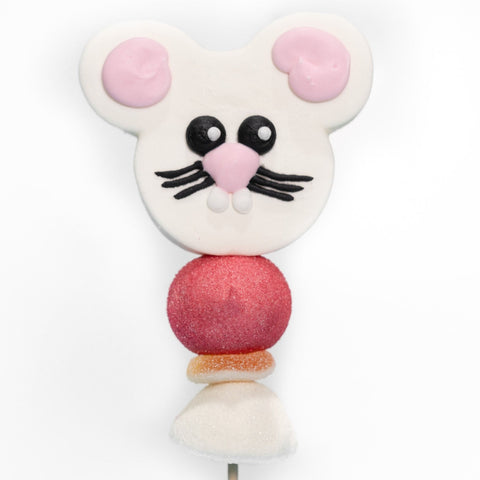 Tonton Pierrot
SET OF 3 "MOUSE" SKEWERS 🐭
Hand-decorated candy skewers in the shape of a mouse 🐭
Vanilla/Strawberry flavor.
Its tender marshmallow will make you melt!
Skewers mounted and decorated by hand with our royal icing: 100% artisanal creation.
Weight: 60g net unit
INGREDIENTS :
Glucose and fructose syrup, sugar, water, gelatin; lemon juice, (water, lemon juice, Acidifiers: E330, lemon oil, preservatives: E202); Acidifiers: citric acid (E330); flavourings, egg whites;  Humectant: sorbitol (E420); corn starch; Acidifiers: Tartaric acid (E334); concentrates (radish, apple, black currant). Dyes: Concentrated black carrot juice, spirulina extract, curcumin (E100),  medicinal vegetable charcoal (E153), betanin (E162).  May contain traces of: milk.
 ALLERGENS: EGGS
A hand-poached French creation 🎀
Are you organizing an event and want the Candy Bar of your dreams?
Set up your own Candy Bar 🎀
Thanks to our dedicated tool, configure your own Candy Bar and have it delivered to your home
A question about the Tonton Pierrot Universe
Contact the sales team by clicking on this link