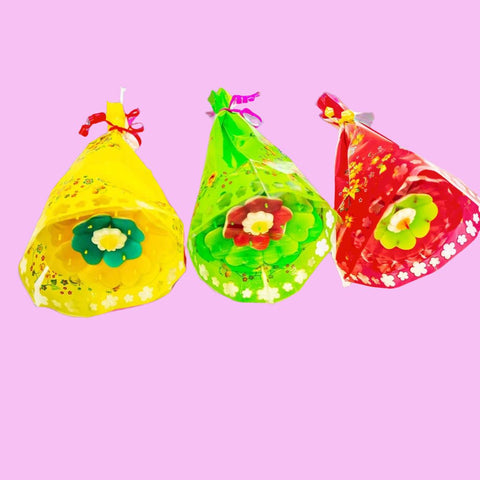 Tonton Pierrot
SET OF 4 "SINGLE FLOWER BOUQUET"
Candy Bouquet is composed of gummy candies on our unbreakable plastic support patented by the Groussard family. 💐
Each candy is assembled by hand.
Blackberry/Apple/Raspberry/Lemon flavor.
100% artisanal creation.
The lot includes: 1 Yellow + 1 Green + 1 Blue + 1 Red.
INGREDIENTS :
Glucose syrup, sugar, water, gelatin, flavorings; pectin; Humectant: sorbitol (E420). Acidifier: citric acid (E330), lactic acid (E270). Acidity regulator: sodium lactate (E325); wheat starch,  concentrates (carrot, safflower, elderberry, lemon). Colours: curcumin (E100). Glazing agent: beeswax (E901), carnauba wax (E903). May contain traces of: milk, eggs.
Weight: 100g net unit
A hand-poached French creation 🎀
Are you organizing an event and want the Candy Bar of your dreams?
Set up your own Candy Bar 🎀
Thanks to our dedicated tool, configure your own Candy Bar and have it delivered to your home
A question about the Tonton Pierrot Universe
Contact the sales team by clicking on this link