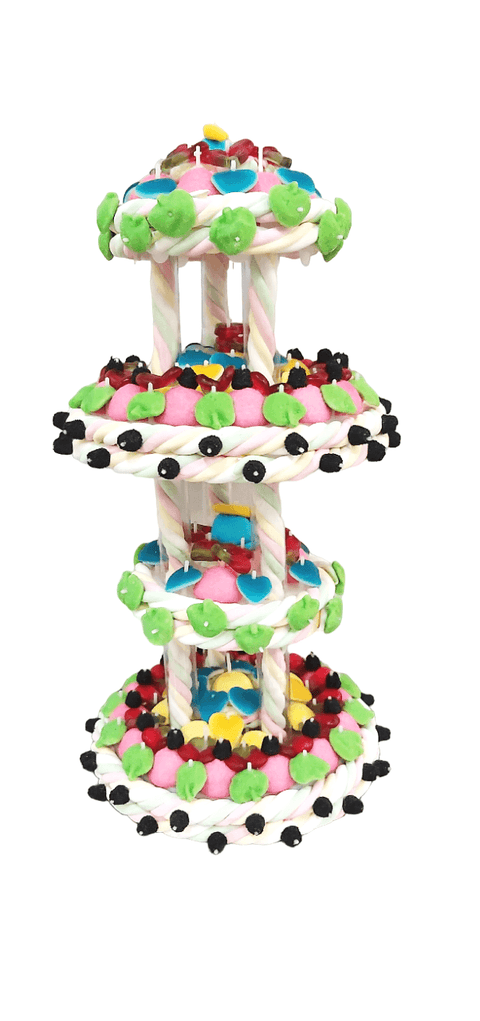 Tonton Pierrot
MAXI PIECE RISE 4 FLOORS
An event to celebrate ? 🎉
Birthday, baptism, wedding or a family meal: the cake is a must for gourmet tables!

Our 4-tier cake is made up of two cakes and two maxi candy cakes.
All our sweets are delicately stitched by hand on our unbreakable and recyclable plastic support, patented by Tonton Pierrot himself!
Raspberry/apple/raspberry/strawberry/blackberry/vanilla/banana/lemon/cherry flavor.
For the pleasure of children… and adults! 🥰

INGREDIENTS :
Sugar, glucose and fructose syrup, water, gelatin; Humectant: sorbitol (E420); corn starch, pectins, flavourings. Acidifiers: lactic acid (E270), citric acid (E330). Acidity regulator: sodium lactate (E325); BLE starch, concentrates (black carrot, safflower, radish, apple, black currant, spirulina, elderberry, lemon).  Dyes: Concentrated black carrot juice, spirulina extract, E100, E160c. Glazing agents: E901, E903, vegetable oil (coconut, rapeseed). May contain traces of: milk, egg.
A hand-poached French creation 🎀
Are you organizing an event and want the Candy Bar of your dreams?
Set up your own Candy Bar 🎀
Thanks to our dedicated tool, configure your own Candy Bar and have it delivered to your home
A question about the Tonton Pierrot Universe
Contact the sales team by clicking on this link